The Toyota Gazoo Racing World Rally Team defended its leadership of the FIA World Rally Championship in this penultimate round of the 2018 season in Spain. As the only truly mixed-surface event on the calendar, Rally de España provided a thorough test of the performance of the Yaris WRC.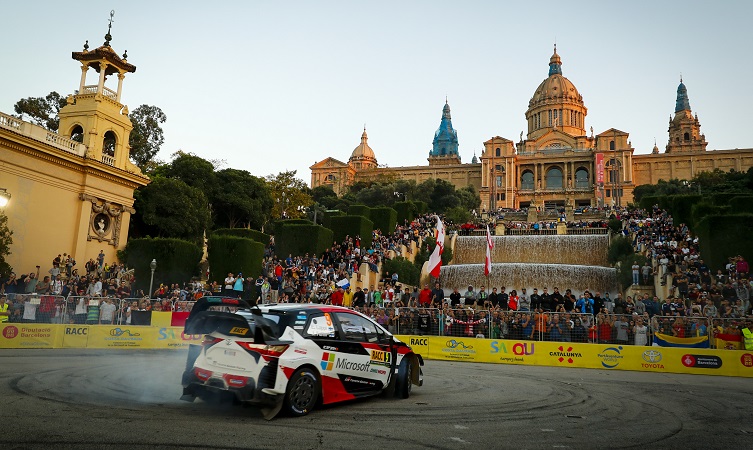 The rally proved to be eventful, with Ott Tänak having led the rally until a puncture on Saturday morning relegated him down the order. Nevertheless, the combined effort of all the drivers allowed the team to clinch crucial points and retain the lead in the manufacturers' championship. Meanwhile, Tänak concluded the event within 23 points of the drivers' championship with 30 points still available in the final round.
2018 Rally de España: day one
Review: Shakedown was held on a 2.0km course just outside the service park, featuring both gravel and asphalt. But with different characteristics to the stages that lay ahead over the weekend, the objective was to check that the systems on the cars worked correctly, rather than apply major set-up work. Jari-Matti Latvala recorded the second-best time, with Esapekka Lappi fifth and Tänak sixth.
The opening stage was held in the stunning surroundings of Montjuïc, with the cars tackling the asphalt streets in gravel specification in readiness for Friday's gravel-focused day. All three Yaris WRC drivers completed the stage without incident, and were within ten seconds of the lead.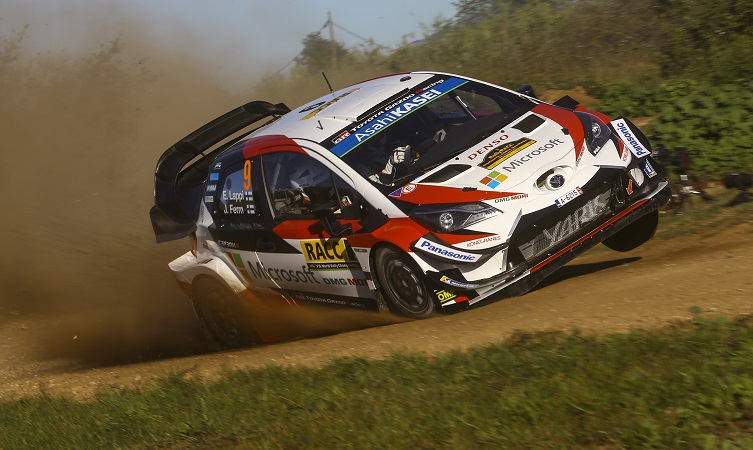 Tom Fowler (chief engineer): "Our shakedown concentrated on systems checks, which were all carried out with no issues. Although the shakedown stage had a mix of surfaces, there was not so much to learn about car set-up as we were using a gravel configuration.
"This rally is very challenging in that sense. The mix of surfaces also created a challenge for our pre-event testing given the limited days we are allowed. We chose to focus on asphalt because the circuit-like roads here in Catalunya are very specialised and the car has had so much development since we were last here a year ago. On gravel we can be confident in our performance based on recent rallies."
2018 Rally de España: day two
Review: Tänak won the first of the six stages and then claimed the rally lead on the next test, where Latvala set the quickest time to move up to second place. Latvala was on course for another stage win on the long, 38.85km mixed-surface La Fatarella-Vilalba test, when he sustained a puncture that cost him approximately 50 seconds.
This gave Tänak an overall lead of 11.7 seconds, which the Estonian extended to 26.8 seconds by the end of the day. His performance boosted his chances in the drivers' championship, having built a significant margin over his two title rivals with two days on asphalt remaining. This was despite being only just behind them at the front of the road order on today's loose gravel roads.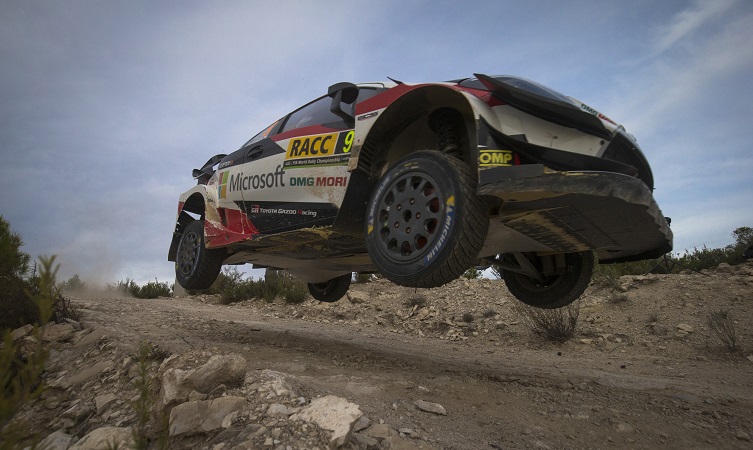 Tommi Mäkinen (team principal): "It's been a brilliant day for Ott, who has shown again just how strong he is at the moment. We can see that the fight for the drivers' championship is most definitely still on, and it's a really exciting battle between the three drivers.
"Jari-Matti has driven so well today. He was very unlucky to get the puncture, because without that he could be leading. His confidence is high and I think he is still in a good position. For Esapekka it was more difficult but I know he is looking forward to the change to asphalt tomorrow. It seems there is a high chance of rain but we can be confident because we had a very good test in these kind of conditions before the event."
2018 Rally de España: day three
Review: The change of surface from gravel to asphalt was met with the further complication of heavy rain, which created a dilemma over tyre choice. The Toyota drivers opted to take the full wet tyre for the morning loop. It was a decision that looked inspired when Tänak and Latvala were quicker than anybody else on SS9, which allowed Tänak to increase the lead he built during Friday to 32.9 seconds.
However, on SS10 Tänak had to stop and change a damaged wheel and tyre. He finished the stage 1m 43s down and dropped to ninth on the leader board. Meanwhile, Latvala and Esapekka Lappi kept up the strong form of the Yaris WRC with another one-two on the stage.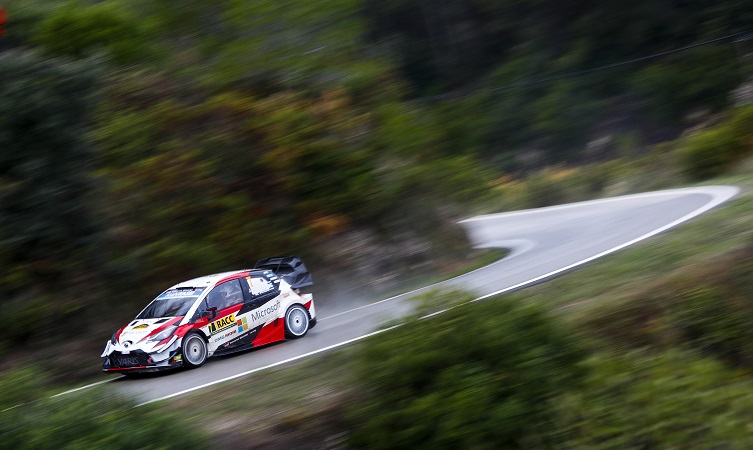 Jari-Matti Latvala (driver car 7): "To be leading after our issue yesterday is a great feeling and shows why you should never give up. The conditions were very demanding all day with the rain and lots of mud coming onto the road. The car was working well though and I think our tyre choices were good.
In the last two stages I was a little bit cautious and we lost some time but we are still leading. It is going to be a big fight tomorrow. I have a five-time champion and a nine-time champion right behind me but I will just focus on my own driving and keeping it relaxed: this will be the key."
2018 Rally de España: day four
Review: On the final day Tänak was able to move up to sixth overall and post the best time on the Power Stage, earning five bonus points to leave him within 23 points of the drivers' championship lead with 30 points still available.
Latvala produced a stunning fight-back from a puncture on Friday to lead on Saturday night at the head of an extremely close, six-way battle. He was lying second and still firmly in the fight for the victory when he touched an armco barrier on the penultimate stage, leading to wheel damage and a flat tyre. After having to take a safety-first approach to the final stage, he finished up eighth overall.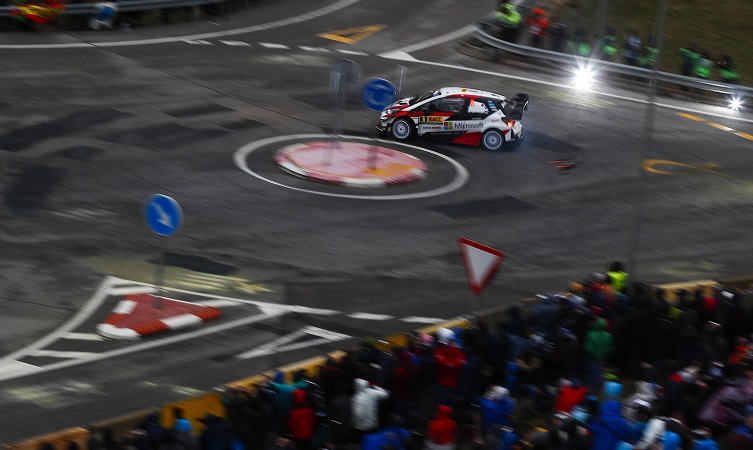 Tommi Mäkinen: "It has been an incredible weekend with a lot of highs and lows and an amazing battle from start to finish. It could have turned out so much better for us. Still, all three drivers got to the end of the rally, scored the points for the manufacturers' championship and Ott did a great job on the Power Stage to keep the drivers' title alive. We still feel really confident going to Australia: we have fast drivers and a fast, reliable car."
2018 Rally de España: final result
| | | | |
| --- | --- | --- | --- |
| POSITION | NAME | CAR | TIME |
| 1 | Sebastien Loeb / Daniel Elena | Citroen C3 WRC | 3h 12m 08.8s |
| 2 | Sebastien Ogier / Julien Ingrassia | Ford Fiesta WRC | + 2.9s |
| 3 | Elfyn Evans / Daniel Barritt | Ford Fiesta WRC | + 16.5s |
| 4 | Thierry Neuville / Nicolas Gilsoul | Hyundai i20 Coupe WRC | + 17.0s |
| 5 | Dani Sordo / Carlos del Barrio | Hyundai i20 Coupe WRC | + 18.6s |
| 6 | Ott Tänak / Martin Järveoja | Toyota Yaris WRC | + 1m 03.9s |
| 7 | Esapekka Lappi / Janne Ferm | Toyota Yaris WRC | + 1m 16.6s |
| 8 | Jari-Matti Latvala / Miikka Anttila | Toyota Yaris WRC | + 1m 26.4s |
| 9 | Craig Breen / Scott Martin | Citroen C3 WRC | + 2m 07.0s |
| 10 | Andreas Mikkelson / Anders Jaeger | Hyundai i20 Coupe WRC | + 2m 48.2s |
The thirteenth and final round of the 2018 World Rally Championship is Rally Australia, which takes place on 15-18 November.