From the Peruvian sands of the start to the high altitudes, mud, standing water and marathon days alone in Bolivia, the Dakar Rally certainly isn't getting any easier for the Toyota teams. But as they say, when the going gets tough, the tough get going.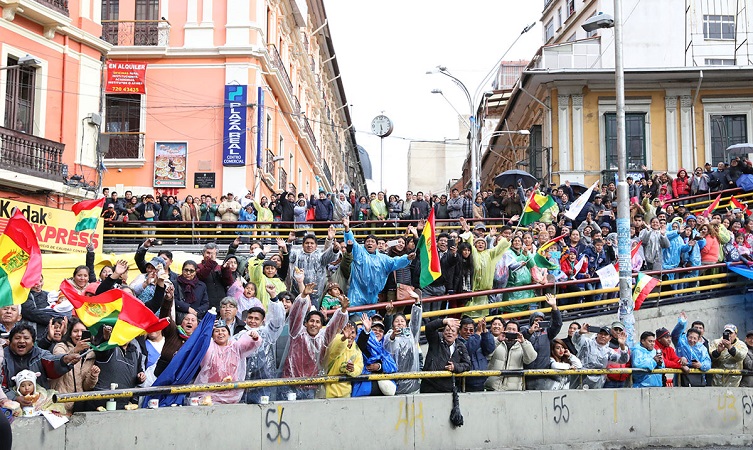 2018 Dakar Rally: Stage 6 – Arequipa, Peru, to La Paz, Bolivia
The 313 kilometres of Stage 6 marked a change in pace and landscape. With the difficult Peruvian sands now behind them, the Toyota teams moved into the rocky mountains of Bolivia. Competitors picked up speed but faced large pools of muddy standing water as they climbed up to almost 4,800 metres above sea level.
Toyota Gazoo Racing South Africa (TGRSA) remained relatively unfazed by these challenges, despite a lack of oxygen for the naturally aspirated V8 motors to devour at these altitudes. Nevertheless, the trio embraced the chance to rally up the leader board with the #301 Hilux of Nasser Al-Attiyah and the #304 Hilux of Giniel de Villiers taking third and fourth on this terrain.
Fellow TGRSA campaigner Bernhard ten Brinke delivered a similar attack, placing his #304 Hilux in seventh place. Encouraged by the performance of his Hilux, he commented: "I think we can move to a more aggressive setup for the coming days as these are closer to rally stages than cross-country stages."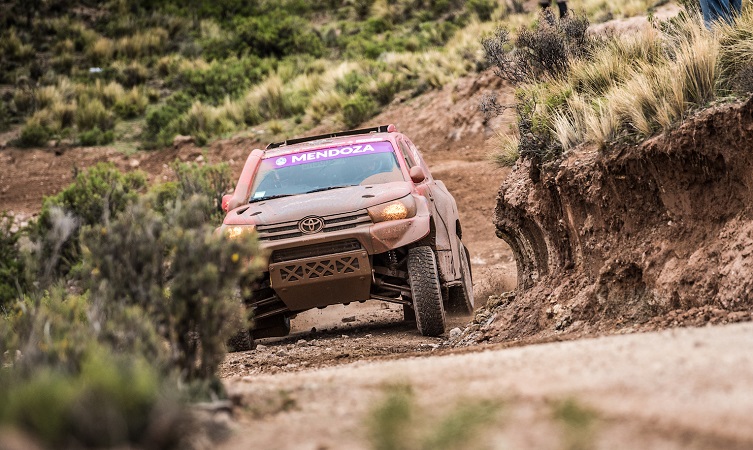 Privateer team Overdrive Toyota (above) made up for the previous day's stage, with Lucio Alvarez securing eighth place in his #318 Hilux. This achievement puts four Hilux models in the overall top ten.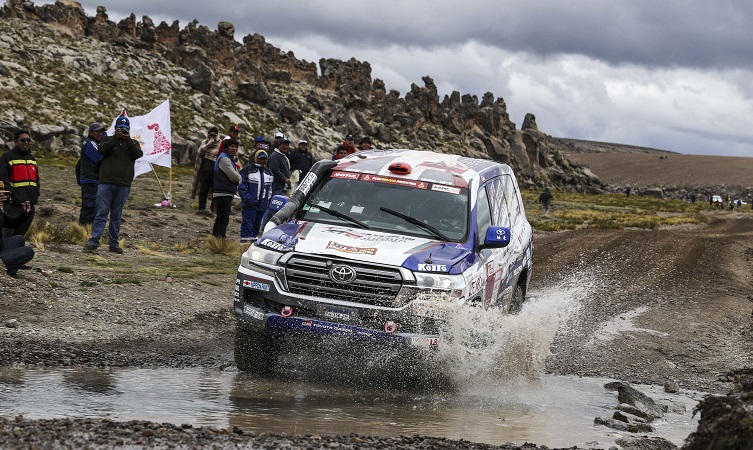 Also making exceptional progress in the Production category was Akika Miura in the Team Land Cruiser Toyota Auto Body (TLC) #337 Land Cruiser, which overcame the wet Bolivian roads to secure yet another first place.
2018 Dakar Rally: rest day in La Paz, Bolivia
The first half of the Dakar Rally has taken its toll, with around 40% of all cars having already dropped out. So following six days of non-stop punishment, this marked a welcome one-day breather for the race crews. Less so for the TGRSA technical crews, which had to strip all three race vehicles, check every part, make any necessary repairs, and finally reassemble them in preparation for the remainder of the raid.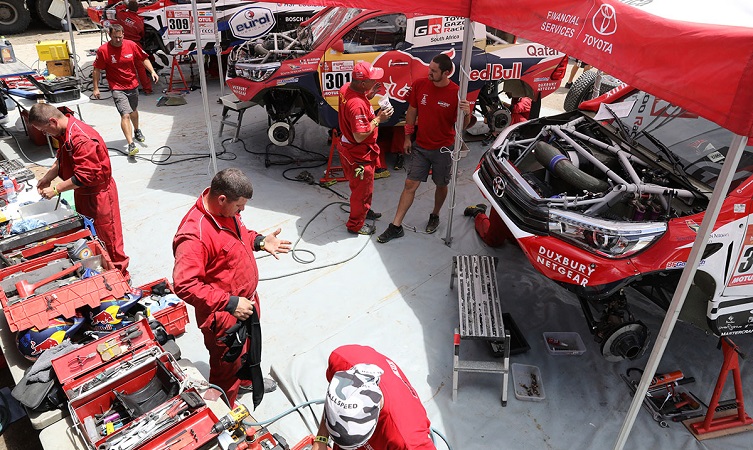 The rest day is not quite the halfway mark, as there are a further eight stages before the finish. TGRSA team principal Glyn Hall continues: "Add to that the marathon stage, which follows directly after the rest day, and it is clear that we need to make absolutely sure that everything is well-prepared. It's a tense time for us, but we have every confidence in the Hilux."
2018 Dakar Rally: Stage 7 – La Paz to Uyuni, Bolivia
Having enjoyed a little rest in La Paz, the second leg of the Dakar began again in earnest with a 425km high-altitude marathon stage towards Uyuni. Heavy rains created added difficulty with thick mud and large pools of standing water, a cocktail that created problems among the top runners and re-ordered much of the top ten.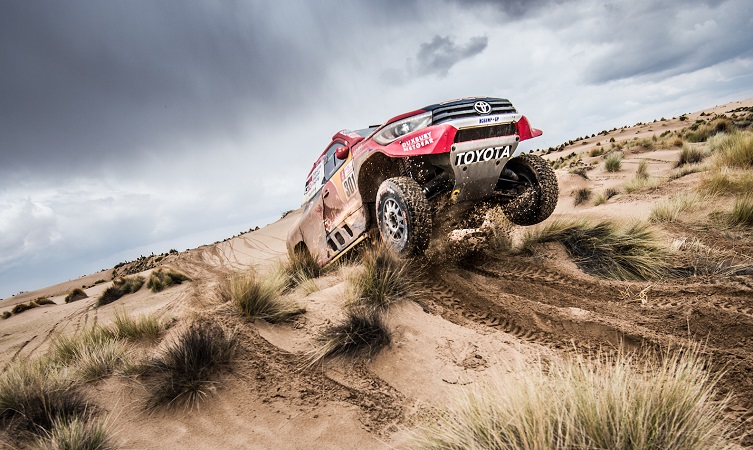 TGRSA's hardened Dakar expert, Giniel de Villiers, was the most familiar with this landscape and ran in top condition to seize second place in the #304 Hilux. Team-mate Nasser Al-Attiyah followed closely behind and arrived in Uyuni in third, while ten Brinke in the #309 Hilux came in seventh. It's fascinating to note how each driver has a different style and approach, yet thanks to the ability of the works Hilux each strategy appears to be working.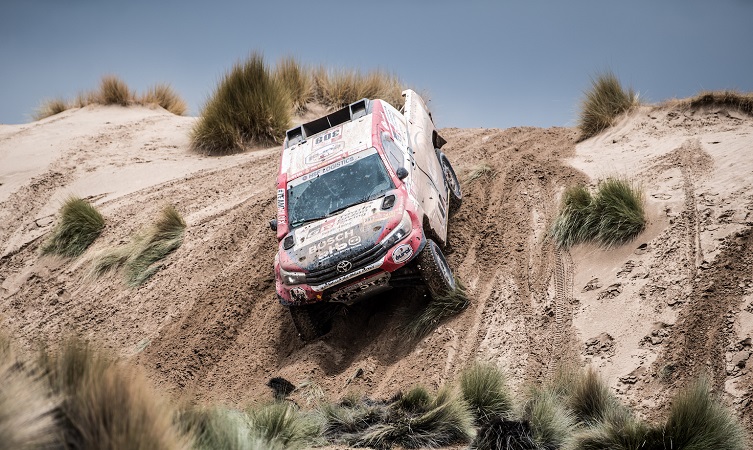 Overdrive Toyota's Lucio Alvarez was also on form, jumping back into the top ten with a sixth-place finish. And there was another first place for the unstoppable TLC Land Cruiser in the Production category, as Akika Miura continues to show no sign of slowing down in his race to the podium in Cordoba.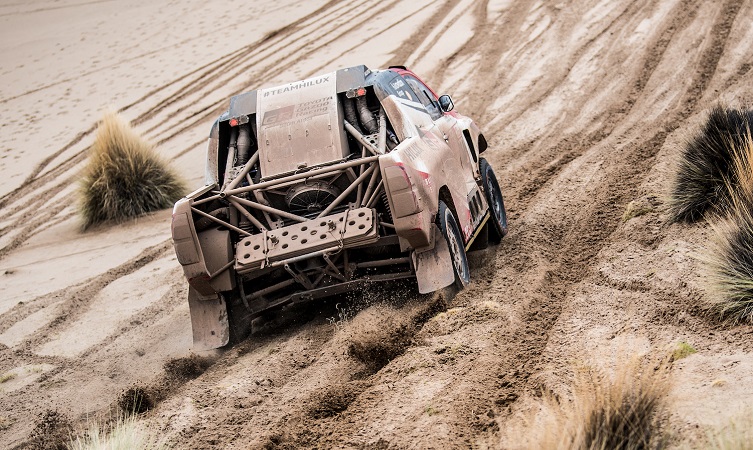 It is interesting to note that no service crews were allowed to assist after the conclusion of the stage, so the race crews had to repair their own vehicles in preparation for the next day's action. "We've been in contact with them," admitted Hall. "But it seems the biggest problem of the day was Bernhard's (#304) wiper motor."
2018 Dakar Rally: Stage 8 – Uyuni to Tupiza, Bolivia
For this second half of the marathon stage, the teams had to race almost 500km towards Tupiza where their mechanics could inspect the damage inflicted over the past two days of punishment. Standing water and sticky mud from the heavy rains made it impossible to judge a proper plan of attack.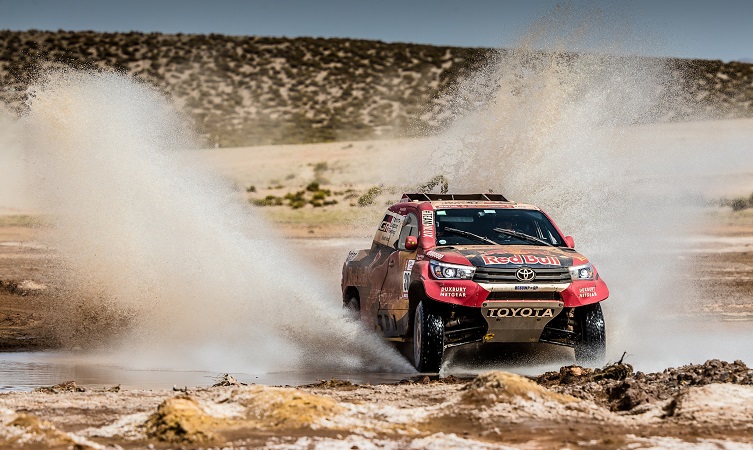 Although still running at high altitudes, Nasser Al-Attiyah had no issues with power but the brush was a factor. Still, the Qatari driver managed to capture third place followed right behind by Bernhard ten Brinke in fourth. Giniel de Villiers was less fortunate and finished in ninth after getting caught in a ditch for 20 minutes.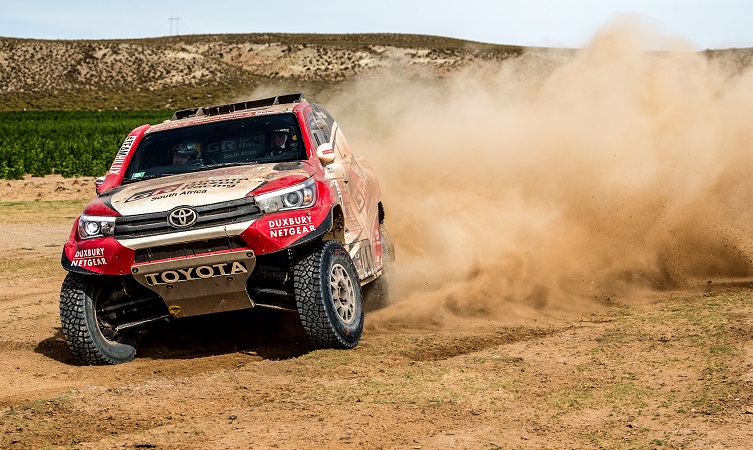 "It was such a close call," explained de Villiers. "I saw the hole a moment too late to avoid it, and then tried to power through. We very nearly made it but ended up getting stuck in a precarious position. We had to take out the spare wheels, jack up the car and move it bit by bit using the spare wheels as a foundation. We eventually got going again but had a puncture mid-way through the stage."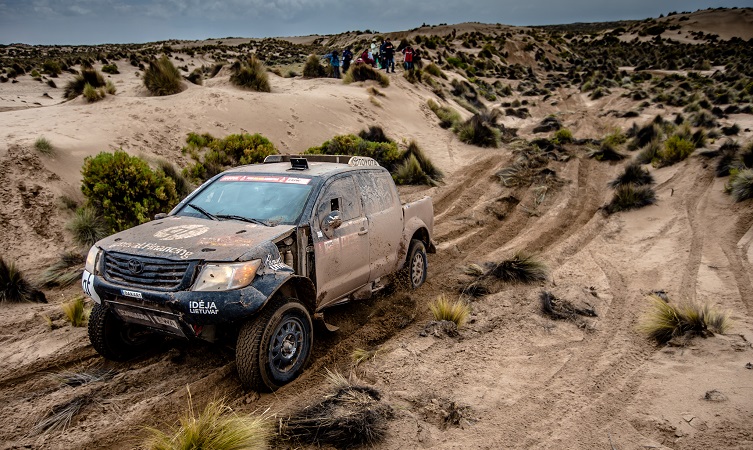 It was a much longer entombment for Overdrive's Lucio Alvarez, who lost a lot of precious time pulling himself free to finally come home in 41st place. On the other hand, fellow privateer outfit General Financing Team Pitlane enjoyed a solid day of racing in its #323 previous generation Hilux (above) to take 14th position.
2018 Dakar Rally: overall positions after Stage 8
| | | | |
| --- | --- | --- | --- |
| POSITION | DRIVER | TIME | MANUFACTURER |
| 1 | Carlos Sainz | 27h 04m 00s | Peugeot |
| 2 | Nasser Al-Attiyah | + 01h 06m 37s | Toyota |
| 3 | Stéphane Peterhansel | + 01h 13m 42s | Peugeot |
| 4 | Bernhard ten Brinke | + 01h 23m 00s | Toyota |
| 5 | Giniel de Villiers | + 01h 37m 09s | Toyota |
| 6 | Jakub Przygonski | + 02h 28m 36s | Mini |
| 7 | Martin Prokop | + 02h 43m 30s | Ford |
| 8 | Khalid Al Qassimi | + 02h 55m 42s | Peugeot |
| 9 | Peter van Merksteijn | + 04h 59m 41s | Toyota |
| 10 | Nicolas Fuchs | + 06h 34m 09s | Borgward |
Read more: 2018 Dakar Rally race report 1
Read more: 2018 Dakar Rally race report 2