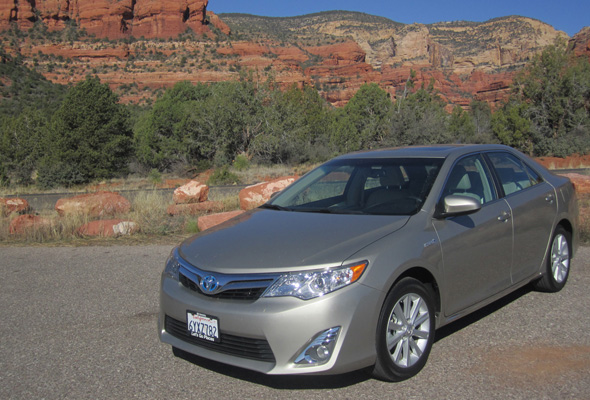 "A hybrid Camry, gee that's a car I'd really like," said Bill, proving that being America's best-selling car for 12 years straight hasn't made Toyota's all-conquering "mid-size" saloon a predictable, default option  for the new car customer.
Bill was admiring my Camry Hybrid in the sunshine of an Arizona canyon, having related how he and his wife had headed south to escape the savage Minnesota winter by driving their Toyota RAV4 across an ice road from their river island home. They were not the last people we'd meet on our US expedition to sing the Camry's praises and to covet the hybrid in particular, suggesting that Camry is ready to set the benchmark for more years to come.
In fact, sales of Camry were so strong in May that it really was a case of "gone in 60 seconds": nationwide almost 50,000 were sold within the month. In 31 years on the market, successive generations of Camry have racked up 10.3 million sales; more than 6.7 million of these cars are still on the road today.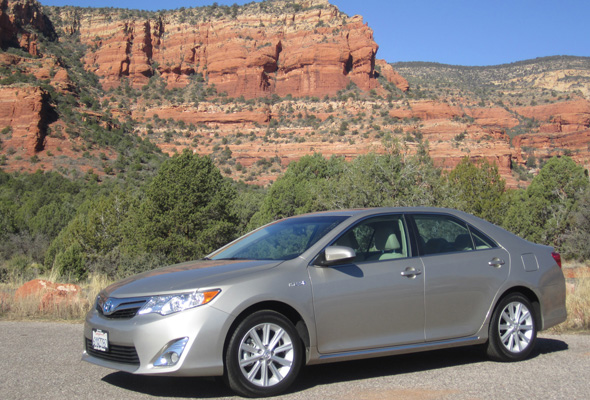 Soon after our visit, the wraps came off the new 2015 Camry, offering even more of what modern Americans want: traditional Toyota quality and durability, but with edgier styling, the option of sportier handling and, in a land where the arrival of the $4-plus gallon of gas has focused attention on fuel economy, more efficient powertrains.
The purpose of our trip was to try to understand just why Camry is such an enduring American success story, which meant using the car the American way – from urban parking at the mall to long-distance interstate drives.
Truth to tell, the Toyota never seemed out of place or out of its depth.  Here was a genuine car for everyman and everywoman: comfortable, well made, utterly reliable and, yes, desirable. It's a car Americans can be proud of, too, being engineered in Michigan and manufactured in Indiana and Kentucky.
In three weeks we drove the Camry on Los Angeles' crumbling freeways, the undulating backroads of wine country and dizzying hairpin climbs into desert mountains. On the long highway trail towards Phoenix the external temperature display hit the 90s Fahrenheit, while chilly nights in Arizona's red canyonlands left frost-covered screens. Whatever the road conditions or the climate, the Camry didn't miss a beat.
Under the bonnet, its version of Toyota's Hybrid Synergy Drive uses a 2.5-litre, four-cylinder petrol engine and a 105kW electric motor, giving a total system output of around 200bhp. That's sufficient to deliver a touch more than 49 miles per UK gallon in the American equivalent of combined cycle driving. Our fuel figure wasn't far off that mark, thanks to long, economy-friendly drives, and notably our fuel bill for the trip was less than half that of our colleagues who were in a thirsty Lincoln SUV.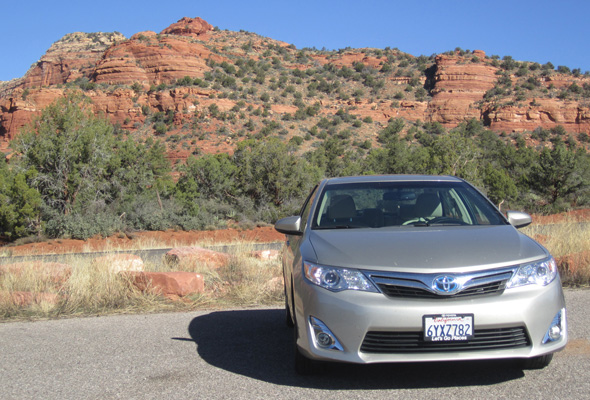 Our car was specified to provide every convenience and creature comfort, from soft leather electrically adjustable seats, to a blind spot monitor that was an invaluable tool when negotiating the free-for-all of American freeway traffic.
Camry hasn't been part of the UK model range for about 10 years, and the market for saloons of its size – at 4,806mm it's almost 100mm longer than Avensis – has declined sharply across western Europe as customers opt for more compact cars. Could it spearhead a revival? Certainly seen in the context of American motoring, it's an impressive package; whether that could travel back across the Atlantic is another question entirely. Remember, though, that there is already a factory building Camry in St Petersburg to supply an eager Russian market.
See also:
Small hybrid cars: big benefits, low costs
8 things you didn't know about hybrid
10 tips for maximising your hybrid's fuel economy