The class report for Toyota's 2012 Drift School is finally in! Through our recent competition, we selected a group of enthusiastic Toyota GT86 fans and showed them how to drift the new sports coupe like 'Drift King' Keiichi Tsuchiya.
[youtube width="580″ height="340″]https://www.youtube.com/watch?v=OeqSQNzwCZQ[/youtube]
Using five GT86, we put our competitors through some intensive training in the morning, then hosted a Barrel Sprint race in the afternoon.
Their challenge was simple. From a standing start, drivers were told to accelerate hard, and then complete a full 360-degree lap of each of the three barrels placed between them and the finish line.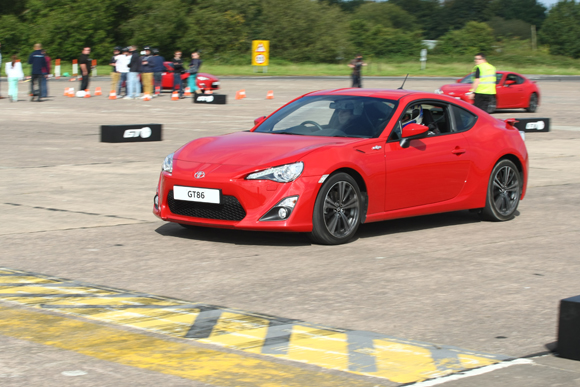 The course  was 100 metres long and just 10 metres wide, making precision important. Touching one of the barrels, or dropping a wheel outside of one of the lanes would incur a five-second penalty.
In training, the time our pupils took to complete the course started around an average of 30 seconds. However, by the time the race began in earnest, we saw the stopwatch tumble to less than 25 seconds.
The afternoon's qualifiers ended with our top four fastest drivers then joining a competition for podium places.
The first semi-final saw Martin Johnson take on Paul Renwick. Martin took the win to join the final.
The second semi-final was between Harry Erksine and Paul Parsons, Harry took the lead and went head to head against Martin for the first and second places.
In the end, it was Martin who kept his nerve to claim top spot. Harry finished moments behind, with a creditable second. Paul Parsons took the win for 3rd on the podium.
At the end of the day, we had used up five tanks of fuel and ploughed through six sets of tyres. Despite the punishment, our GT86 ran like clockwork.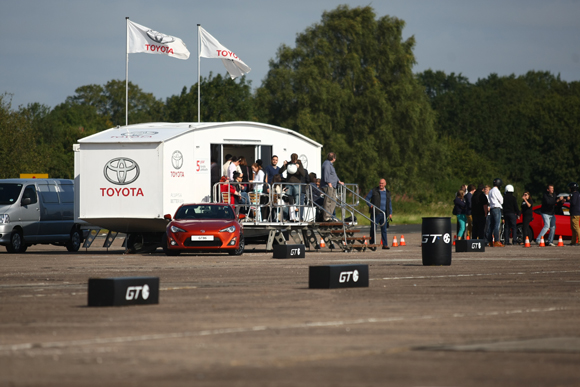 Our base for the day (above),  at Prodrive's proving ground near Kenilworth.
As the event proved so popular, we're thinking about options for running a similar challenge next year.
If you'd like to be considered for an entry, or have any thought about how we could make our event even better, let us know by leaving a comment at the foot of this page.
Our winners included:
Stephen Hall, Adam Smith, Chris Auty, David Gareth Jones, Anthony Tarick Taylor, Paul Parsons, Paul Renwick, Chris Torbett, Paul Metherell, Martin Johnson, Karen Bagshaw, Michael Gooderham, George F.Williams, Leon Kehoe, George Demetriou, Jamaine Jacobs, Charlie Worsley, Garry Towns, Daniel Duperouzel, Jake Archer, James Leacock, Kun Dang, Ricardo Claro, Robin Callighan, Colin Johnston, Simon Cane and Harry Erskine.
Special congratulations to Martin Johnson, winner of our first ever Drift School.